THE DISTRUPTIVE
DRESS SNEAKER!
Groundbreaking Luxury Dress Sneakers & Shoes For Modern Life
VIEW NEW COLLECTION
TIME TO GIVE YOUR SHOE ROTATION A NEW ACE
Materials tech enhanced sneakers & shoes optimized for comfort that fold flat for traveling light and barely crease. We're happy to share our 5th project with the Kickstarter community! Thanks to our thousands of backers, we are able to continue experimenting and pushing the limits of what is possible in high quality footwear. We hope that you enjoy one of our most innovative campaigns yet!
the Disruptive Sneaker
We made a shoe that folds flat, packs tight, barely creases, is super comfortable, and saves you money.
We scoured all of Italy to find the best components and innovations in footwear and materials tech to bring this project to life. These are not just incredible, comfortable shoes for your daily life, they have capabilities that you won't find anywhere else. We're very proud of the results. An innovative leather shoe and sneaker that barely creases and folds flat so that it takes up 75% less space and can easily be packed in small carry-ons, briefcases, backpacks, and weekender bags. You don't have to be a traveler to enjoy the daily comfort of our Travel by Ace Marks collection. You won't find another luxury dress shoe or sneaker like this.
View Collection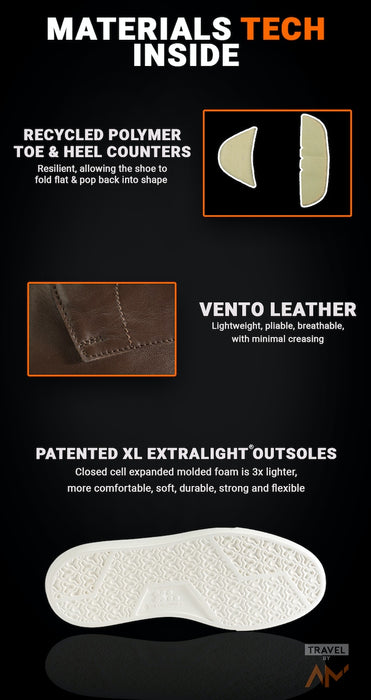 Packed with Amazing Features
Dress Sneakers
Shop the Casual Collection
Ace Marks Dress Shoes
Browse Through Ace Marks new Dress Shoe Collection
Designed for Comfort
We believe that a shoe has to look good and feel good. Our dress shoes spent 3 years in development to make sure that we got it right. We started by designing our Ace last for comfort while still maintaining a sleek look. Our focus on flexibility in our constructions is why we call them Blake Flex and Goodyear Flex. Our materials are thoughtfully selected to create a comfortable all-day shoe without a break-in period. From our flexible leather outsoles to the shock absorbing insoles in our sneakers and memory foam cushions in our dress shoes, you're going to feel the difference.
Add on's and Free Extras
Our leather accessories are all made in Italy and hand-dyed & hand burnished by our master craftsmen to match your shoes. Our socks are made in Italy by small multi-generational family of artisanal sock makers, and our shoe care accessories are specially constructed and formulated for our shoes using the finest materials.
Included with Every Purchase
Free Extras
Free Extras
All orders will receive a free accessories package.
All orders will receive a free accessories package added to your order. Included in the package is a free pair of travel shoe horn, and cotton shoe bag.
About Our Production
Each pair of Ace Marks Italian men's dress shoes are handcrafted by 4th generation Italian artisans with hand-selected full grain calf leather and are crafted, dyed, and burnished by hand. The lightweight Blake Flex or Goodyear construction and leather outsoles allow for easy, effortless movement.
Handcrafted Dress Shoes
Each pair of Ace Marks is handcrafted by only our finest artisans using the best Italian leathers in the world.
Handcrafted Italian Sneakers
Each sneaker is made with full grain calf skin leather uppers & lining or our water repellent suede. They are crafted, dyed, and burnished by hand. The manual process gives each pair its unique characteristics and ensures that every shoe is of the highest quality. For extra long life, we use Margom rubber outsoles.
BuyBack Program
No middlemen. No crazy markup. Just magnificent shoes at a magnificent price that we will buy back when you're ready for a new pair. Our disruptive business model goes beyond cutting out the middle man to give our supporters direct to consumer pricing.
We Strengthen Communities
Ace Marks will buy your old shoes back and Donate them to men in need.
We created the Leave Your Marks program to activate the Ace Marks family and incentivize giving back. By sending back your worn Ace Marks Italian Luxury Statement dress shoes every time you buy a new full priced Italian luxury Statement shoe from www.acemarks.com, you, not only get a $60* credit and a great reason to keep your shoe game fresh, you also participate in changing someone's life.
Career Gear
We partnered with Career Gear to donate them to help men in need stay employed and become role models to their families and communities.
Buy Back Program
Ace Marks is the first and only luxury shoe company to do this!
Timeline for Delivery
Timeline for Delivery
If you order it, you will receive it! Every backer will receive their reward.
We will ship from our 3 distribution facilities. EU orders will ship from our German facility; Canadian orders will ship from our Canadian facility; all other shipping addresses will ship from our facility in Miami, FL.
Sizing Information
Our Shoes Fit True to US Brannock Sizing
Originals Line:
Sizes 5 to 15 US, including half sizes, in "D" or "E" width.
"D" is the standard (medium) width.
"E" is a wider width.
Sneakers:
Sizes 5 to 15 US, only in "D" width.
If you need a wider width, you can size up. More details are provided in the size guide.
Our shoes fit true to US Brannock sizing which is the same sizing scale used by most major American brands. Still, it will be VERY important that you follow our fitting & sizing instructions. If the size you order happens to not be the best fit, we will exchange it for you, however exchange shipping costs are not included in the price.